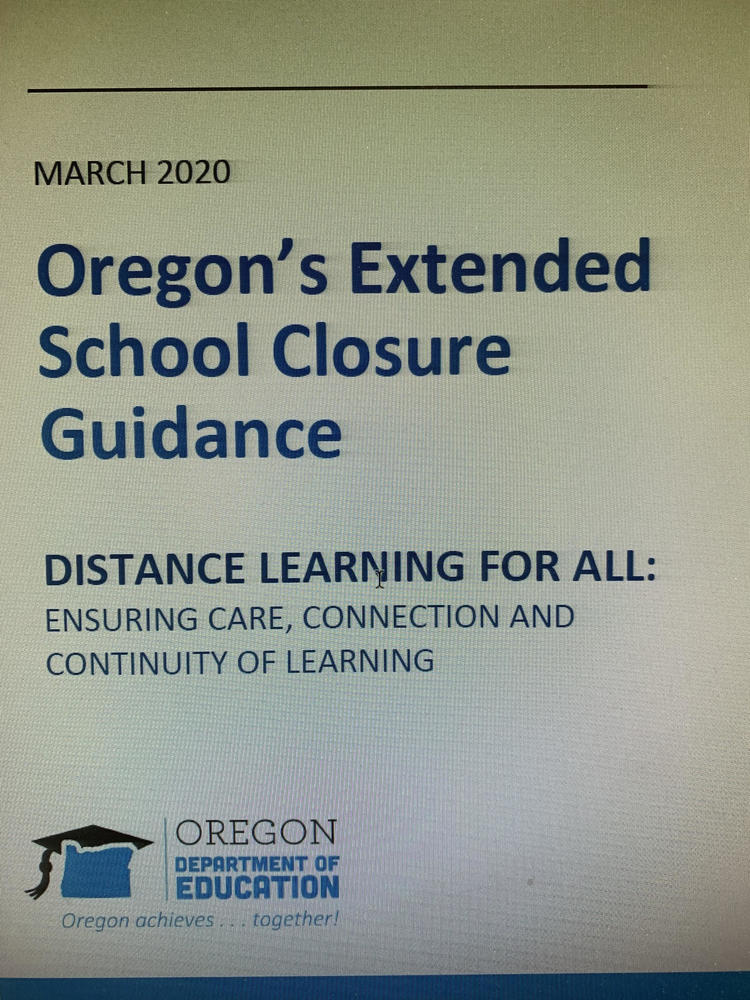 Work Packet pick up and ODE Update
Malcom McRae
Tuesday, March 31, 2020
The Oregon Department of Education has issued new guidance for school districts. This means an abrupt change in the focus of school staff as we receive updates hour by hour. The complete guidance is available at https://5il.co/efp6.
This guidance does not provide information on the pathway to graduation for the Class of 2020. We expect that guidance to come when it has been fully vetted with all entities including the Governor's office, the State Board of Education, and the Higher Education Coordinating Commission.
Currently, we are providing grab-and-go breakfast and lunch for pickup at Applegate Elementary School for all K-12 students who were enrolled on March 13 when schools were closed due to the COVID-19 pandemic.
As work packets come in for the various grade levels, we will hand them out for in-person pick up. We currently have packets available for Kindergarten, 1st, 2nd, and 3rd grade with more are coming in. Teachers may also make online content available and will communicate those opportunities to families directly.
Packet pick up hours are from 11:00am to 12:30pm on April 1st and April 2nd. We are limiting our pick up days and time to honor the Governor's Stay Home Save Lives order and to minimize the risk of community spread.
We will not distribute packets or food on Friday, April 3. If you wish to enroll your children included in the food program, please contact Lee Ann at 541-935-2100 or at lhartwig@cal.k12.or.us.
Beginning on Monday, April 6, 2020, our pick up days will be limited to Mondays and Thursdays only from 11:00am to 12:30pm. Food will be distributed for multiple days.
If you have other questions or concerns please contact mmcrae@cal.k12.or.us.
Malcom McRae, Supt.
Crow-Applegate-Lorane SD